The Most Popular Instagram Hashtags in 2023
The Most Popular Instagram Hashtags in 2023
Feb 17, 2021
Social Media Platforms
Underestimating the power of a single hashtag is every marketer's downfall.
Though they may appear to just be words at the bottom of your screen, hashtags are proven to make or break your content strategy. Use them correctly and your posts are more likely to be seen by people who will actually be interested in your brand and products. 
But how do you know which hashtags to use? 
We're glad you asked. 
If you are fortunate enough to be working with an Instagram marketing agency, then you will have people to do the heavy lifting for you, but for the independent creators among you, this blog will not only reveal the most popular Instagram hashtags of 2023 thus far, but also how they work and our top tips for maximising their use. 
Source: Robert Benjamin Youtube Channel
Tips and best practices for using hashtags on Instagram
Before teaching you how to harness the power of the most popular hashtags on Instagram, it is first important that you understand how they work. 
Typically attached to the end of your captions, hashtags are essentially clickable and searchable topics that users can interact with to find similar content. You can place any word or phrase in front of a # and it will immediately become an interactive topic. This is great for brands trying to connect with their target audience, as your content will appear in the hashtag's discover feed.
Being noticed on the discover feed of the most popular hashtags on Instagram is a much harder feat to achieve, so opting for more refined, niche hashtags will increase your discoverability.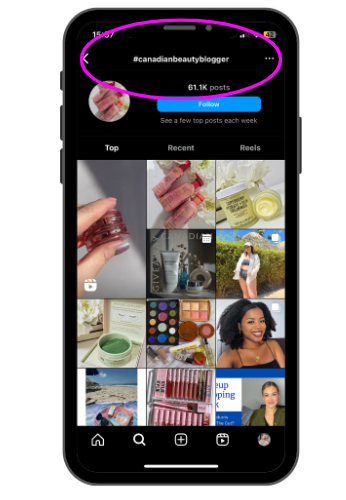 Now for the fun part.
Using hashtags doesn't have to be complicated, but there are some non-negotiables when it comes to implementing them into your content strategy. 
1. Avoid banned/spammy hashtags: it is good practice to check that the hashtags you want to use aren't banned, as these can cause less engagement and lessen the effect of legitimate hashtags used due to a drop in the algorithm. On a similar note, you should avoid hashtags that shamelessly solicit likes and followers, such as #like4like and #followme, as these will only attract bots; showing others that your brand is okay engaging in spammy behaviour.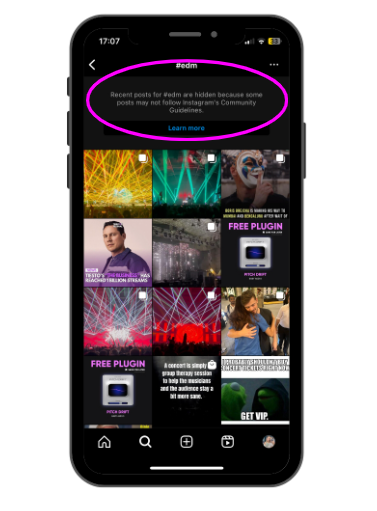 2. Don't use irrelevant or repetitive hashtags: not only is this detrimental to your reach, but Instagram's community guidelines clearly state that posting repetitive comments and content is not okay. Ensure that your hashtags make sense and remember, it's not about being seen by a lot of people, it's about being seen by the right people. 
3. Conduct Instagram hashtag research: this is a key part of distribution and there are several ways to go about it; check out your competition, monitor influencers, see what hashtags your audience are already using or use Instagram's Related Hashtags feature.
4. Don't just use hashtags underneath your post captions: hashtags can also be included in your Stories, by either using the hashtag sticker or by simply placing a # before your words. These have exactly the same function as hashtags below captions and allow for users to click through to the discover feed for that hashtag.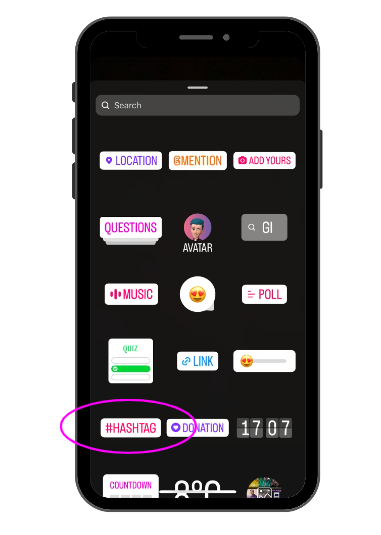 The most popular hashtags on Instagram…
In general
#instagrammers

#igers

#instalove

#instamood

#instagood

#followme

#follow

#comment

#shoutout

#iphoneography 

#androidography

#filter

#filters

#hipster

#contests

#photo

#instadaily

#igaddict

#envywear

#pleaseforgiveme

#photooftheday

#pics

#insta

#picoftheday

#bestoftheday

#love

#instafamous

#popularpic

#popularphoto

#photography
Instagram hashtags for fashion content
#fashion

#love

#style

#styleinspo

#ootd

#outfitoftheday

#whatiwore

#shoppingaddict

#beautydoesnthavetobepain

#currentlywearing

#instastyle

#lookgoodfeelgood

#fashionblogger

#fashionista

#fashionstyle

#fashionable

#fashiongram

#fashionblog

#fashionaddict

#fashionphotography
Instagram hashtags for food and beverage content
#food

#foodporn

#foodie

#instafood

#foodphotography

#foodstagram

#yummy

#instagood

#love

#foodblogger

#foodlover

#delicious

#homemade

#healthyfood

#photooftheday

#picoftheday

#dinner

#foodgasm

#foodies

#tasty

#cooking

#instadaily

#lunch

#bhfyp

#restaurant

#healthy
Instagram hashtags for travel content
#travel

#nature

#photography

#travelphotography

#photooftheday

#instagood

#travelgram

#picoftheday

#photo

#beautiful

#art

#naturephotography

#wanderlust

#adventure

#instatravel

#travelblogger

#landscape

#summer

#trip

#explore
Instagram hashtags for pet content
#pet

#dog

#pets

#dogsofinstagram

#cute

#petsofinstagram

#dogs

#cat

#love

#puppy

#cats

#petstagram

#animals

#animal

#instadog

#instagram

#dogstagram

#doglover

#of

#catsofinstagram

#dogoftheday

#doglovers

#petlovers

#doglife

#instapet

#catstagram

#instagood

#cachorro

#catlover
Instagram hashtags for tech and gadgets content
#techie

#latesttech

#ilovemygadgets

#gadgetsgalore

#apple

#android

#applevsandroid

#wearabletech

#VR

#mobile

#makinglifeeasier

#tech

#technology

#technews

#gadgets

#instatech

#software

#innovation
Instagram hashtags for wedding content
#wedding

#bride

#weddingdress

#weddingphotography

#weddingday

#weddinginspiration

#makeup

#weddingplanner

#prewedding

#bridal

#bridetobe

#weddingphotographer

#weddings

#groom

#engagement

#party

#weddingideas

#makeupartist

#indianwedding

#casamento
Instagram hashtags for fitness content
#fitness

#gym

#workout

#fitnessmotivation

#motivation

#fit

#bodybuilding

#training

#health

#lifestyle

#fitfam

#healthylifestyle

#sport

#healthy

#gymlife

#life

#crossfit

#personaltrainer

#goals

#exercise

#muscle
Instagram hashtags for holiday content
#stockingstuffers

#christmasdecor

#spookyhalloween

#happyhalloween

#thanksgivingtable

#turkeyorham

#valentineformyvalentine

#happyfourth

#newyearseve

#newyearsresolution

#holidaycrazy

#holidayspirit

#kwanzaa

#hanukkahgift

#underthetree
Instagram hashtags for makeup 
#makeup

#makeupartist

#makeupaddict

#makeuplover

#makeupjunkie 

#makeuptutorial

#makeupforever

#makeupbyme

#makeupoftheday 

#makeuplook 
Instagram hashtags for business 
#business

#businessman 

#businesswoman 

#businessowner

#businessowners

#businesscoach 

#businesswomen 

#businesslife

#businesstips

#businessminded 
Instagram hashtags for gaming 
#gaming 

#gamer 

#ps 

#game 

#playstation 

#videogames 

#xbox 

#games 

#fortnite 

#twitch
The Types of Instagram Hashtags
The beauty of using trending hashtags for Instagram is that they are broad and cover top-line subjects. This means they can be used effectively by all Instagram users and brands to add context to their content.  
However, sometimes it's even more impactful to user hashtags that are targeted. Specific hashtags not only introduce your content to a niche audience, but they often have less content under them. Essentially, there's less competition, meaning your content will dominate the hashtag. 
Brand hashtags
Using branded hashtags is a popular Instagram hashtag strategy for many businesses. Brand-specific hashtags allow businesses to house their content under one hashtag and also encourages Instagram users to create their own content. When Instagram users create their own content, you can easily see which UGC performs the best; with the creator's permission, you could use the content in your own marketing. 
When creating branded hashtags, you should focus on your brand's tagline or hero product. This allows you to easily see the value behind your business and not just your brand's name. 
Category hashtags
Category hashtags are still relatively broad, but by keeping them related to the subject of your content you can provide context to your content and brand. If you're promoting a running fitness app or software, you will want to use category hashtags such as #fitness and #running. These hashtags aren't directly connected to any brand. 
Event hashtags
Event hashtags relate to a specific event. If you are hosting a launch event for a new product or campaign, you should use the name of the event, the product tagline or anything that can uniquely identify your event. 
Campaign hashtags
Campaign hashtags are arguably the most commonly used Instagram hashtag strategy. They are typically used for the duration of the campaign and are a great way to track how Instagram users really feel about the campaign. There are usually a lot of hashtags created for product launches. 
Community hashtags
There are tonnes of communities active on Instagram globally. Using community-specific hashtags can help you join in organic conversations.
Examples include #gardenersofinstagram and #craftersofinstagram. 
Seasonal event hashtags
There are hundreds of calendar events throughout the year. Finding ones that are specific to your brand, campaign or product can help you target new audiences. A popular hashtag strategy is finding National [Thing] Days, for example #NationalLipstickDay, #NationalMoustacheDay or #NationalHealthySkinMonth. 
Daily hashtags
Every day of the week has a bunch of hashtags relating to it, from #MondayBlues to #TGIF to #SundayFunday. These are fun hashtags to increase your reach and relatability. 
Acronym hashtags
One of the most popular hashtags on Instagram is #TBT for Throwback Thursday. Other popular acronym hashtags include Outfit Of the Day #OOTD, You Only Live Once #YOLO and Flashback Friday #FBF. 
Emoji hashtags
Emoji hashtags may not increase your reach drastically, but they will make your Instagram captions fun. Emoji hashtags could simply be the emoji by itself or they could have a phrase attached. 
How many hashtags you can use on Instagram? 
It is easy to include the top Instagram hashtags in just one post. Instagram allows a maximum of 30 hashtags to be used in a single post, and a maximum of 10 hashtags on Instagram Stories. Using more than the maximum amount means that your post will not be uploaded to the site. Although there is space for so many hashtags to be used in Instagram posts, it is common for users to use around 10 hashtags per post. However, there is no set rule about the ideal number of hashtags to use, so you should do what feels right for your content. 
How Hashtags Can Be Used to Increase Likes On Instagram?
Hashtags are an important way to find and connect with others on Instagram. You can discover new accounts, follow people, and engage in discussions around topics that interest you most. The power of hashtags is content discovery. You are likely to be attracted to a post if you see that it includes a hashtag with your interests or hobbies. Hashtags can also help you promote your own posts to more people – because they are seen by more users who follow the same hashtags. A good Instagram hashtag is a secret to the success of any post. Using them in the right way will ensure that you get maximum visibility for your content on Instagram, leading to an increase in likes. A good rule of thumb is not to use too many hashtags per post. This can lead to users feeling overwhelmed and disconnected from what you are trying to say. Remember, hashtags are for adding context and meaning to your content, not filling up every space with unnecessary tags.
How to find trending hashtags?
There are several top trending hashtags on Instagram, so it might be difficult to find the trending hashtags relevant to you. Here are some tips on how to find the most popular Instagram hashtags. 
Find the hashtags that your audience uses 
Searching for hashtags that your desired demographic already uses is an easy way to grow your audience and reach users who are likely to be interested in your content. Look for the most followed hashtags on Instagram that are used among your target audience and make sure to include them in your posts. 
Look at your competitors 
The most popular Instagram hashtags that are used by your competitors is a good way to find hashtags that attract a similar audience. However, make sure that you look at how their followers engage with their hashtags as well as which hashtags seem to attract the most users. The posts with the highest engagement will likely be the best hashtags for Instagram in 2023 for your business. This is a good way to determine if you want to use similar hashtags, or if you want to completely diverge from what your rivals are doing. 
What is the most popular content on Instagram? 
Whilst the most popular Instagram hashtags are crucial to any user of the platform who wishes to expand their following, the type of content that you upload to Instagram is equally as important. 
Here are a couple of examples of the most popular content being used by Instagram users around the world: 
Videos 
Videos have become increasingly popular on Instagram ever since Stories was created. They offer an alternative way to reach out to your audience, as there is the option to include more information in a video. Using videos also enables you to see the number of views your videos receive, which is a great way to determine the success of your content. 
User-generated images 
The best way to show your followers that you care about them is by sharing images from your followers that are related to your product or service. For example, business owners may post a product review made by one of their followers to their Instagram page. 
FAQ's
What are the most popular Instagram hashtags?
The top 5 most popular Instagram hashtags are as follows: 
1. #love (2.1B)
2. #fashion (1B)
3. #art (984M)
4. #photography (982M)
5. #happy (689M)
These are the best hashtags Instagram 2023 that will offer huge exposure for your business. 
How many hashtags should you use on Instagram?
You can include up to 30 hashtags on a post and 10 hashtags on a Story, though the general consensus is that anywhere up to 11 is acceptable. Most users opt for 3-5 hashtags, but you will need to do some testing to discover what works best for you.
How do you hide hashtags on Instagram?
You can hide your hashtags in the comment section. 
Write out your caption as usual. Don't add any hashtags.

Publish your post and click on the comments section.

Add your hashtags here and, unless a user clicks 'see all comments', they won't be visible.
You can also hide hashtags in the caption itself. 
At the bottom of your caption, tap the return/enter button.

Enter a punctuation mark, like a full stop or dash, and hit return/enter again.

Repeat this 3-4 times.

Add your hashtags. Instagram hides captions after three lines, so your hashtags won't be visible to scrollers. 
What are the most popular/trending Instagram hashtags?
#instagrammers

#igers

#instalove

#instamood

#instagood

#followme

#follow

#comment

#shoutout

#iphoneography 

#androidography

#filter

#filters

#hipster

#contests

#photo

#instadaily

#igaddict

#envywear

#pleaseforgiveme

#photooftheday

#pics

#insta

#picoftheday

#bestoftheday

#love

#instafamous

#popularpic

#popularphoto

#photography
How do I find the most popular/trending hashtags on Instagram?
If you pay attention to your Instagram feed, you'll quickly learn which hashtags are popular, but if you want to find popular hashtags on Instagram, you can search for one and see how many other posts use it. From here, you will also see a list of other popular hashtags using a similar word with post counts too.
What hashtags will get me followers?
The hashtags best for gaining new followers are:
#love

#instagood

#me

#tbt

#cute

#family

#travel

#photooftheday

#happy

#style

#beautiful

#girl

#life

#selfie

#nature

#summer

#fun

#smile

#friends

#motivation

#instadaily

#fashion

#igers

#fitness

#food
Our Influencer marketing agency and Social agency are located worldwide, with our agency network based in the USA, UK, UAE and China.
If you want to receive our industry insights, visit our Influencer Marketing & Social Media blogs here.
[cta]
Popular Blogs
Tiktok Hashtags | Instagram Monetization | Facebook Banner Size | Snapchat Influencers | Most Subscribed Youtubers | Best Time to Post on Youtube | UK Twitch Streamers | Female Twitch Streamers | Popular Tiktok Songs | Male Tiktok Influencers | Lgbtq Tiktok Influencers | The Rise and Fall of Clubhouse  | Influencer Marketing on Clubhouse | LiketoKnowit | Pretty Little Thing Instagram| Social Marketing Agency
Get in touch
We'll show you how to start powerful conversation, drive social engagement, build your brand, hit sales targets or meet other goals you have, wherever you are in the world.
Work with us