Top 11 Best Makeup and beauty Influencer on Instagram to follow in 2020
Top 11 Best Makeup and beauty Influencer on Instagram to follow in 2020
Sep 30, 2020
Influencer News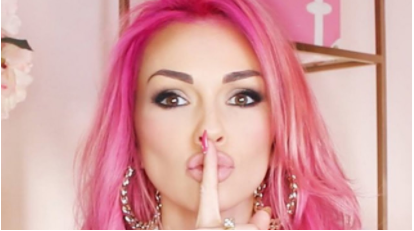 The beauty industry is constantly changing, with more representation and avant-garde looks than ever before, redefining our perception of conventional makeup and beauty. Long are the days that makeup could only be sold through catalogues or department stores. Now, most beauty brands have direct-to-consumer business strategies and advertise their products on social media. However, the beauty market is an endlessly crowded one, which makes it difficult to navigate for many brands. 
This is why in recent years, many fashion and beauty brands have invested their digital spending in influencer marketing.  Even though cosmetic companies are the most likely to hire beauty influencers to partner or represent their brands, other industries can benefit from working with beauty and makeup influencers by reaching a new audience who often turn to these influencers for guidance and recommendations. 
This works particularly well if your brand overlaps with the beauty industry, which can mean fashion, lifestyle, jewellery or other accessories. Even tech brands like Apple have partnered with beauty influencers, as their platform has a strong base for engaging and consistent content. Beauty influencers also have become big activists and advocates in recent years, representing more personalised characteristics that people identify with on social media. For some brands, it may be valuable to work with beauty and makeup influencers for no other reason than they share similar messaging or values. 
The desire that society has formed to impose more realistic beauty standards has also evolved into a social media strategy tool for beauty brands, specifically when it comes to UGC (user-generated content). The beauty industry has seen major shifts, from over the counter glossy makeup professionals to barefaced, authentic influencers who teach people how to use makeup to feel flawless in their own skin. Makeup in 2020 is more advanced than it has ever been. Makeup means skincare, serums, nutrients, transparent glosses, false eyelashes and so much more. Therefore, the makeup marketplace has just spiralled out of control. Forbes reported that 62 percent of women said that they follow beauty influencers on social media platforms.
How fashion brands use influencers
Since social media platforms have cracked down on advertising, lots of fashion and beauty brands have struggled to come up with strategies that help their business grow organically. According to L2's fashion video report, fashion brands are particularly struggling to engage customers with social media videos, without promoting them as advertisements. According to the report, even storytelling videos struggled to perform well – and most views don't come from organic searches, but paid advertisement clicks.
This need for organic and engaging content across the industry has widened the need for influencer marketing campaigns. Influencer marketing strategies have become a worthy investment for many brands across fashion and beauty. For beauty especially, influencer marketing on YouTube has performed well, as viewers are more drawn to the authentic feel of influencer's content over paid advertisements.
Influencers have allowed beauty brands to reach customers in nontraditional ways that go beyond purchasing. This includes amplifying brand values, image and messaging when it comes to creating organic content. Since influencers have the power to form genuine relationships with consumers, there is a leverage for brands to understand what customers want, and how to provide that to them.
According to launchmetrics, In beauty, influencer marketing alone was the largest contributor to media impact value with 55% of buzz and value coming from influencers. YouTube has worked wonders for fashion and beauty brands, driving almost 20% of global media impact value. A good example of this is the collaboration between Morphe Cosmetics and James Charles, which generated $45.8M from his Youtube channel of 30M viewers.
For fashion and beauty brands to compete in the crowded social media landscape that's currently present, it's obvious that they need influencers to maintain relationships with their customers in the long-run to see real ROI.
There's a reason that traditional word of mouth marketing has stuck around for so long – and that's because it works. Popular beauty brand Glossier is the perfect example of this, it launched a referral scheme that each had a personal link to the consumer, so it was easy to keep track of where sales were coming from… and how. Glossier is the perfect example of how big a small brand can grow, thanks to social media. The beauty brand proves that there is huge power in cult-following and that you can't create social media hype without one. Peer to peer recommendations is not outdated, just hard to identify when it comes to social media marketing.
Top makeup & beauty influencers on Instagram to follow in 2020 
As we progress through the chaotic year that is 2020, we decided to take a look at the top makeup and beauty influencers on Instagram to follow, so you can ensure that they are on your radar. Here are the top beauty influencers 2020:
1. Huda Kattan
Huda Beauty is one of the biggest names in the industry when it comes to cosmetics. Huda Kattan founded the company in 2013, making her the highest-paid influencer in the industry. Her account has more than 47 Million followers, and was ranked #1 on the '2017 Influencer Instagram Rich List', earning $18,000 a post. That same year, she was chosen as one of "The 25 Most Influential People on the Internet" by Time magazine. In 2018, Huda started her own Facebook Watch original reality series called Huda Boss.
2. James Charles
At just 19 years old, James Charles became the first-ever male ambassador for CoverGirl and went onto build a youtube empire, based on his own self-taught skill set, with over 20 Million subscribers, making him the #1 most subscribed beauty influencer in the business. He also has similar followers on his Instagram page, which features his signature highly glamorous makeup looks making him one of the most followed makeup influencers on Instagram. In April 2020, he started a YouTube series called Instant Influencer, aimed to find the next 'beauty influencer', with him as the main host. Since James Charles has also launched his own line of makeup palettes and brushes with Morphe Brushes.
3. Zoë Sugg
Sugg has been working in the beauty industry for over a decade, and at just 29 she's become one of the industry's biggest influencers on Youtube and Instagram. The English beauty star started her career on Youtube, focusing on haul fashion and cosmetic videos. Now, she has merely 12 million subscribers. She then went on to start her own brand of lifestyle products called Zoella, breaking the record for highest first-time sales in a week. Sugg also wrote a novel called Girl Online – which also sold out.
4. Shayla Mitchell 
Also known as @makeupshayla, the beauty influencer is a brand ambassador for ColorPop Cosmetics, and has +2.7 million followers on Instagram. Her speciality is the range of beauty looks she's embedded on her feed, from casual to high-octane glamour. She also uses Youtube to show her audience more in-depth makeup tutorials with the links to all her favourite products.
5. Michelle Phan 
Phan started a Youtube vlog in 2007, now she has over 2M followers. She co-founded Em Cosmetics and popular makeup subscription service, Em Cosmetics. In 2010 Lancome made her their official video makeup artist, making her the first Vietnamese-American spokesperson.
6. Jaclyn Hill 
With over 6 Million followers, Jaclyn Hill is one of the top beauty influencers in the industry. Hill has a youtube channel as well, with around the same amount of subscribers. She started in the industry working for MAC cosmetics, where she started filming her own tutorial videos on social media. She's also collaborated with many celebrities and cosmetic companies like Kim Kardashian. She's currently working on launching her own cosmetic line called Jaclyn.
7. Kandee Johnson 
With a following of +1.8 million, Kandee Johnson films video tutorials on social media that range from high fashion to everyday contouring. Johnson collaborates with a monthly beauty products delivery subscription service called Boxycharm and often represents other lifestyle brands like SugarBearHair (a hair vitamin supplement).
8. Em Ford
Em Ford started her career as a beauty influencer by launching her social media campaign, #redefinepretty which was aimed at challenging traditional beauty standards around acne scars and birthmarks. With over 150K followers, she is currently a UK ambassador to Olay. Em Ford is one of the top makeup influencers in the UK.
9. Manny Gutierrez 
With over 4.6 million followers on Instagram, Manny Gutierrez is another self-taught influencer who specializes in beauty reviews and makeup challenges. He also works with makeup subscription service company Boxycharm, and also represents brands like Lunar Beauty. He often uses his platform to share content subjected to body positivity and other social causes.
10. Nikkie de Jager 
@nikkietutorials started her makeup channel on YouTube with makeup tutorial videos that transformed a person's face using her contouring skills. Ranging from all kinds of looks from Grinch themed ones on Christmas to Halloween makeup, the makeup star is known for mentioning all the products that she uses and is credited for being one of the best makeup influencers on the internet. She's worked with brands like Maybelline, Marc Jacobs Beauty and FacialTox.
11. Naomi Giannopoulos
With over 7 million followers on Instagram, Giannopoulos regularly posts makeup tutorials that show different lip and eye makeup combinations, that people are challenged to try on themselves. She has over two decades of experience, so it makes sense that she launched her own brand of false lashes called Vegas Nay.
Our Influencer marketing agency and Social agency are located worldwide, with our agency network based in the USA, UK, UAE and China.
If you want to receive our industry insights, visit our Influencer Marketing & Social Media blogs here.
[cta]
Popular Blogs
Most Popular Instagram Hashtags | Tiktok Hashtags | Instagram Monetization | Facebook Banner Size | Snapchat Influencers | Most Subscribed Youtubers | Best Time to Post on Youtube | UK Twitch Streamers | Female Twitch Streamers | Popular Tiktok Songs | Male Tiktok Influencers | Lgbtq Tiktok Influencers | The Rise and Fall of Clubhouse  | Influencer Marketing on Clubhouse | LiketoKnowit | Pretty Little Thing Instagram| Social Marketing Agency
latest posts
Social And Influencer Marketing News + Insights
Dec 08, 2023
Social Media Marketing News
The Top 10 Influencer Marketing Campaigns That Cater To Gen Z
Read more
View all blog posts
Get in touch
We'll show you how to start powerful conversation, drive social engagement, build your brand, hit sales targets or meet other goals you have, wherever you are in the world.
Work with us