The Best Time to Post on LinkedIn in 2023
The Best Time to Post on LinkedIn in 2023
Apr 03, 2023
Social Media Platforms
Timing is everything.
We crave divine timing in life when it comes to getting a dream job or starting anything new and posting content to LinkedIn is no exception. 
Carefully selecting your posting time to the platform will maximise your content's engagement and ensure that it performs better in the long run.
But when exactly is the best time to post on LinkedIn? And what about the best day of the week to ensure maximum effect?
In short, everyone's audience is unique and so posting times will vary for different people, however, there are a set of universal best posting times that seem to work for many. Read on to find out the overall best times to post on LinkedIn in 2023.
The overall best time to post on LinkedIn
Though posting times on LinkedIn will be different for everyone according to their industry, audience, location, time zone etc, universal posting times have been calculated for the start ups and small businesses who are yet to build their community to base their posting schedule off of. 
According to research conducted by Sprout Social, the best time to post on LinkedIn is at 10am on Tuesdays. Let's take a look at their heat map breakdown of the best times to receive engagement on your posts.
The best time to post on LinkedIn on Monday: Between 10 – 2pm
The best time to post on LinkedIn on Tuesday: Between 10am – 11am
The best time to post on LinkedIn on Wednesday: Between 8am – 1pm
The best time to post on LinkedIn on Thursday: Between 9am – 11am
The best time to post on LinkedIn on Friday: Between 10am – 12pm
The best time to post on LinkedIn on Saturday: Between 6am – 1pm
The best time to post on LinkedIn on Sunday: Between 8am – 12pm
It is important to note that due to LinkedIn being a professional social networking platform by design, it is not likely to be frequented on non-working days. On these days people tend to gravitate more towards casual social platforms like Facebook and Instagram.
Tips for finding your best time to post on LinkedIn
Enlisting the help of a LinkedIn marketing agency will ensure that the heavy lifting is done for you, as they will take the time to craft a suitable and effective posting schedule for your content. However, for those going it alone, make use of the following tips to help you create your own.
Review your top performing posts
As a LinkedIn veteran, your previous content uploads behold a treasure trove of insights about your audience's online activity and which posts they tend to engage with. 
It's a good idea to review your top performing posts and spot any trends that may appear. For example, are they all posted at a similar time or on a similar day? 
Luckily for you, LinkedIn has its own native analytics tool which you can use – for free! – to single out your top performers. While this will not overtly give you your ultimate best times to post on LinkedIn, it certainly will be able to form the skeleton of your posting schedule. You will then be able to follow the next few tips to fill it out. 
LinkedIn allow you access to analytics data over the course of one week…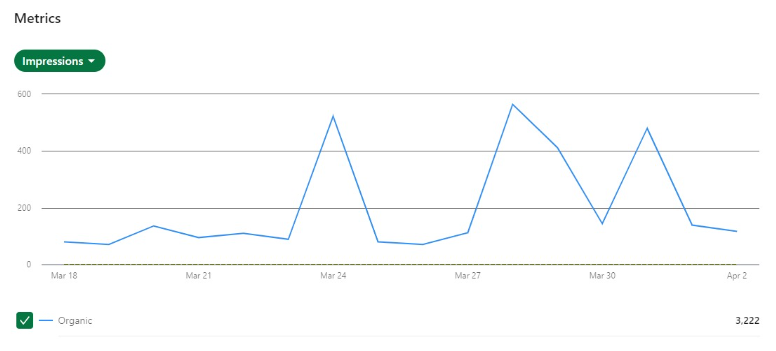 Or, if you prefer, more detailed, single-post analytics data…
See what your competitors are up to
A little social competitive analysis never hurt anyone. 
Keeping an eye on the posting times of your top competitors could inspire your own schedule, while skipping the trial and error stage. 
You might find that a lot of posts seem to go live on the hour. To avoid the sea of competition, consider posting a few minutes before the hour to ensure your content stands out.
Post in your target audience's time zone
This is imperative to brands marketing to audiences outside of their own country, as, it goes without saying, no one will be able to interact with your content if they are asleep…
If you are the ones who will be asleep at the prime posting time in your target country, then consider using a social media management tool – or a LinkedIn marketing agency – to schedule your posts in advance.
Monitor your results
Finding the best time to post on LinkedIn is not a single-effort mission. It will evolve and therefore require a lot of strategy and schedule changing. 
Once you think you have a suitable posting schedule made, keep a continuous close eye on the results that it garners and use these to figure out whether your strategy is working or not. If not, change accordingly and repeat the process.
Be consistent!
Consistently posting not only keeps your audience engaged, but also allows you to collect even more analytics data. As mentioned above, more data leads to a more detailed and successful posting schedule. 
Being consistent on LinkedIn is a great way to boost brand visibility and allow your audience to feel more connected to your brand and its values. LinkedIn's algorithm favours authentic connections and, before you know it, LinkedIn fame will be yours.
If you found this blog helpful, be sure to check out our blogs on the best time to post on Instagram, and the best time to post on TikTok!
FAQs
What is the best time to post on LinkedIn?
The universal best time to post on LinkedIn is at 10am on Tuesdays.
Is it bad to post on

LinkedIn

at night?
While it isn't necessarily 'bad', it certainly is not making use of your most effective time period for increased engagement. This is because LinkedIn is a professional networking platform that people tend to use during work hours, which are typically between 8am – 6pm. 
What is the worst time to post on LinkedIn?
The weekend is a notoriously bad time to post on LinkedIn due to very low activity.
Is Monday a bad time to post on LinkedIn?
On Monday between 10am-2pm is a good time to post on LinkedIn due to many people being back to work after the weekend. 
Should I post every day on LinkedIn?
If you are able to, we say go for it! Being consistent on LinkedIn only engages your audience further and strengthens your connection with them. 
Does LinkedIn have a post limit?
While the platform does not have a post limit, we recommend sticking to no more than one post per day and two to five posts per week.
Our influencer marketing agency and social agency are located worldwide, with our agency network based in the USA, UK, UAE and China.
If you want to find industry insights, visit our influencer marketing and social media blog.
@ Socially Powerful
latest posts
Social And Influencer Marketing News + Insights
Dec 08, 2023
Social Media Marketing News
The Top 10 Influencer Marketing Campaigns That Cater To Gen Z
Read more
View all blog posts
Get in touch
We'll show you how to start powerful conversation, drive social engagement, build your brand, hit sales targets or meet other goals you have, wherever you are in the world.
Work with us