Influencer Sessions: Get to Know @love_disfigure
Influencer Sessions: Get to Know @love_disfigure
May 02, 2023
Influencer News
We caught up with entrepreneur, burn survivor and body-positive activist Sylvia Mac, known online as @love_disfigure. Check out what she has to say about advocating for those with visible/hidden/invisible differences, learning to love her body unconditionally and using her platform to raise awareness. 
Check out the full blog for more!
What do you do/remind yourself/say to yourself on the days when your body confidence is low? Would you recommend the same to others?
When my body confidence is low, I remind myself that I am still alive. I survived a terrible accident and am so lucky to be here today. I remind myself of all the beautiful friends and family in my life and those I continue to meet as I walk my life path.
I would remind others that have gone through trauma that they're survivors and they should embrace the word because it's so special and it makes them strong, unique, and beautiful. To people and other burn survivor that are struggling with their bodies I would remind them that it's what's on the inside that's more important, but they should try to look in the mirror and tell themselves daily just how beautiful and amazing they are as women.
Tell us about your background and how you started to build your following.
I am a Burn Survivor Thriving! I spent most of my young and adult life self-body hating suffering severe depression, anxiety, and suicidal thoughts. I was bullied for having scars and hid them away under baggy clothing most of my life until I had a turning point in 2016 on a beach holiday. I came home and set up Love Disfigure in a Facebook group sharing photos, stories and life about my scars. It grew to 6,000 until Facebook changed their guidelines and deleted half my followers. Then someone told me to start posting on Instagram. From there I reached out to people with visible/hidden/invisible difference, disfigurement, and disability to join me on protests and campaigns.
Many of my campaigns went viral for example standing outside Victoria Secret or having bikini photo campaigns appearing on TV and in the press. I became a Body Positive person to follow appearing in Top 10-100 charts in Good Housekeeping, Insider, Oh My Mag, Nomipalony, Amra & Elma. I also appeared in magazines such as Meaw and GQ talking about Kylie Jenner sharing her leg scar. All of this encouraged me to keep going and helping a community that didn't exist at the time but now have multiple Instagram and social media accounts.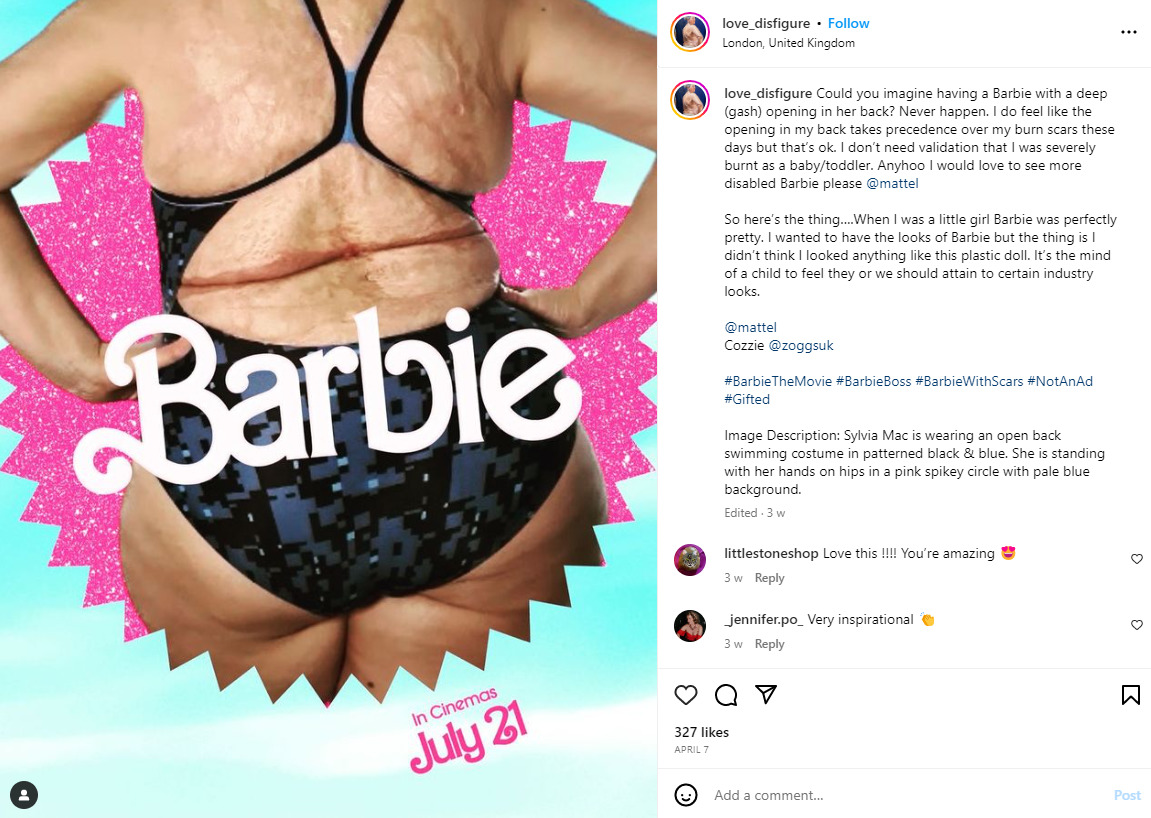 Which platforms do you predominantly use? Which is your favourite?
My main platform is Instagram but I will be setting up a link tree and posting on TikTok. I use Twitter and Facebook, but normally share the same across the board. Instagram has always been my favourite but I'm now having to use Reels as photos don't seem to be doing it as much these days.
What type of content do you create and which works best for your audience?
I create content about the body, and it seems to work well with my audience as they like to see me embracing my scars and skin. I've helped many people online to celebrate their bodies by wearing bikinis on the beach. I love that I can do that and receiving messages from around the globe is just beautiful.
How would you define "influencer marketing"?
I would define influencer marketing as a type of social media marketing with influencers being placed with brands but at the same time being experts in our field by sharing their product with our followers.
Have you worked with brands before? How do you decide which brands to work with?
Yes I have worked with brands before. I always choose what fits my story i.e., anything that goes with body positivity but at the same time me, the person.

How do you think influencer marketing will change over the next 12 months?
I think influencer marketing will grow over the next 12 months so long as there is a need for influencers. I can see more people online sharing their stories and becoming influencers. Some of them are certified which helps when collaborations are being offered.
How has influencer marketing changed since you started working with social media?
When I began sharing my story on social media, there weren't many influencers online. There were only people with a high number of followers or celebrity influencers. 
Do you use any software to help create and edit your content?
I use Inshot and Canva to help me create and edit my content.

How do you balance your online and offline lives?
I find it much easier to balance life online and offline. During covid I found time to do things that I loved with my family whereas before I would spend all day on socials. There are certain times of day I will post but normally create it all beforehand rather than in the moment.
Which influencers inspire you?
I really like @jameelajamil and @meganjaynecrabbe . It was a shock to find myself on the Body Positive charts alongside Megan.
Where would you like to take your career as an influencer?
I've spent 6 years creating content on my own and always wanted to be with an agency so that I could work with more brands, grow more and at the same time continue raising awareness. I want to work with brands so I can show my community that even burn survivors can become signed influencers.
Our influencer marketing agency and social agency are located worldwide, with our agency network based in the USA, UK, UAE and China.
If you want to find industry insights, visit our influencer marketing and social media blog. For our previous Influencer Session, click here!
@ Socially Powerful
latest posts
Social And Influencer Marketing News + Insights
Dec 08, 2023
Social Media Marketing News
The Top 10 Influencer Marketing Campaigns That Cater To Gen Z
Read more
View all blog posts
Get in touch
We'll show you how to start powerful conversation, drive social engagement, build your brand, hit sales targets or meet other goals you have, wherever you are in the world.
Work with us