Your TikTok Analytics Decoded
Your TikTok Analytics Decoded
Jun 20, 2023
Social Media Platforms
TikTok has taken the world by storm with its short-form videos and creative content, but caught up in the whirlwind are brands seeking to harness the power of this rapidly growing platform. 
Long gone are the days of blindly putting out content and hoping that it will land. Instead, understanding and utilising TikTok analytics is the key to meaningful content that will generate maximum engagement. 
TikTok analytics provide valuable insights and key metrics – such as views, likes, shares, comments and follower growth – which can help brands gauge the success of their content and understand what resonates with their target audience. As well, TikTok analytics enable brands to track their audience demographics – including age, gender and location. This data is crucial for tailoring content to specific target markets. 
Remember what we said about creating resonating content? If/when armed with all of this knowledge, brands can refine their content strategies to create more captivating content and, ultimately, increase engagement. 
Are you ready to learn how to leverage TikTok analytics and achieve remarkable success in the ever-evolving world of social media?
Read on!
Why are TikTok analytics important?
Managing the fast-paced nature of socials can be tough, especially if you have limited resources. Knowing and using your TikTok account analytics will take the weight off by helping you keep up with trends and giving you insight into your audience's preferences and behaviours. 
Here are our top reasons for why using TikTok analytics is so important for brands:
1. You can create a data-driven content strategy
Creating resonating and intentional content is the key to success when it comes to all socials. The insights you receive from your TikTok account analytics can inform your content topics, best posting times, relevant trends, potential creators and influencers to collaborate with, and so much more! 
2. Connect with your target audience
TikTok is exceptionally community-oriented. Understanding your account analytics will help you tap into your target community and feed them resonating content, increasingly the likelihood of their engagement. 
For more on TikTok communities, click here!
How to access TikTok analytics
From your desktop
Log into your TikTok account.
Hover over your profile icon in the top right corner and select View Analytics.
Alternatively, on the TikTok homepage, hover over your profile icon and select Business Suite. This will take you directly to your analytics. 
From your mobile device
Tap the profile icon in the bottom right corner of the screen.
Tap the three vertical lines in the top right corner and select Creator Tools from the pop-up list.
Tap Analytics. 
What should you be monitoring?
Here's a breakdown of the TikTok analytics you should be monitoring for improvement and success purposes:
Account overview
There are four primary TikTok analytics sections, each with their own sub-sections – overview, content, followers and LIVE.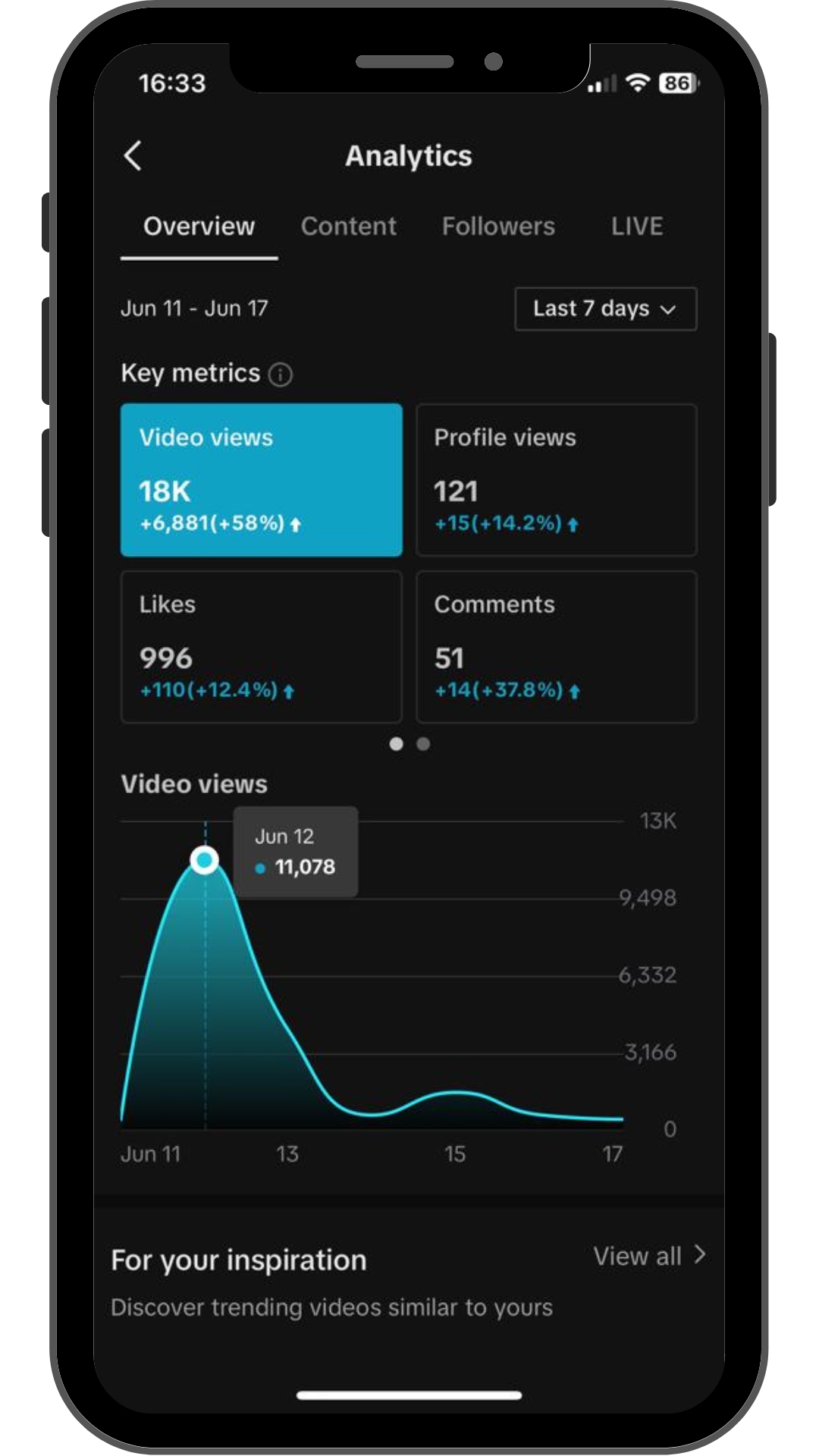 Here, keeping an eye on your video and profile views can help you identify the type of people visiting your profile and how they are interacting with your content; allowing you to then act accordingly. 
Content analytics 
This shows you more specific information about the content you're publishing. Bear in mind that all content metrics are only available for the previous 7 days.
Video posts: Monitoring your content from the last seven days will allow you to get a glimpse into whether you stayed on par with your post frequency from the last period. 
Trending videos: This will show you the top 9 videos with the fastest growth within the last 7 days. This way, you can see what content type is continuously doing well.
Follower analytics
The third – and arguably most important – tab on your TikTok analytics dashboard is all about your followers. The very people you make content for.
Seeing in-depth information about your audience ensures your future content is resonating with your target audience. 
In this section you will have insight into:
Followers: This will tell you how many followers you have and how many net followers you have. Net followers show the number of new followers minus the number of unfollows within the last 7 days.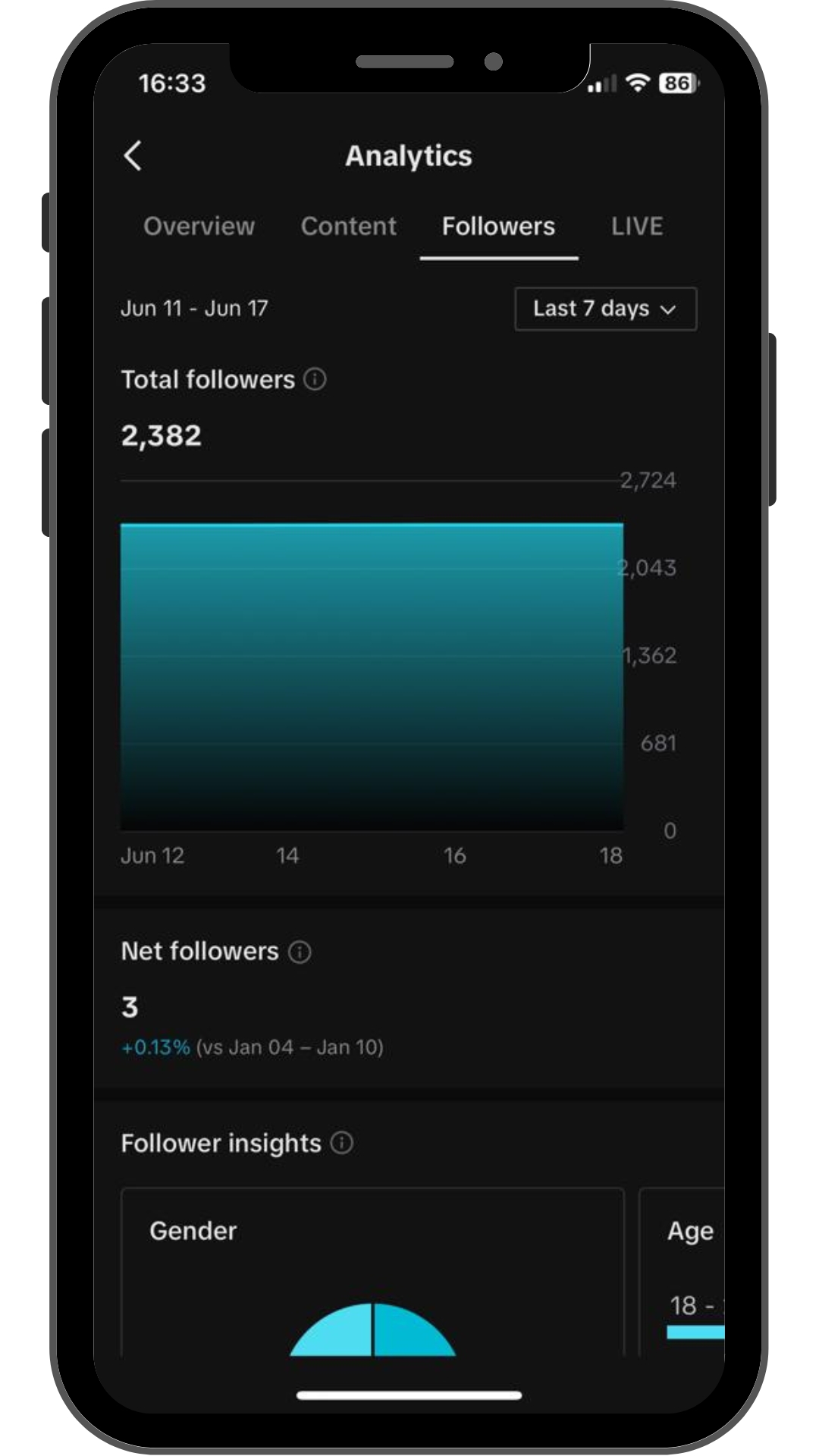 Growth rate: Whether you have gained or lost more followers than the previous period.
Gender: The gender split of your audience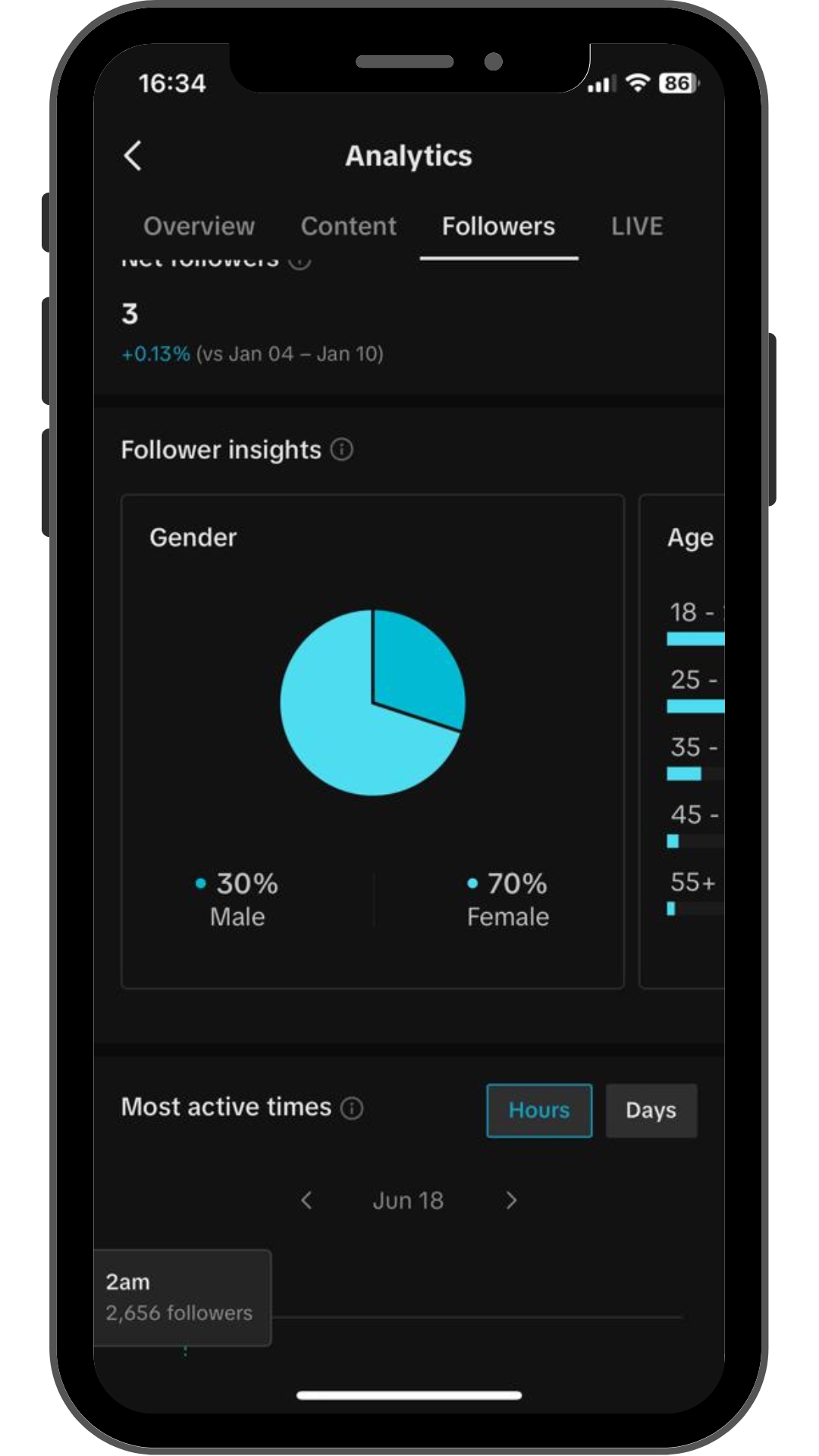 Age: Your audience breakdown by age ranges
Top countries: The countries your content is most shown to, and where your followers are from.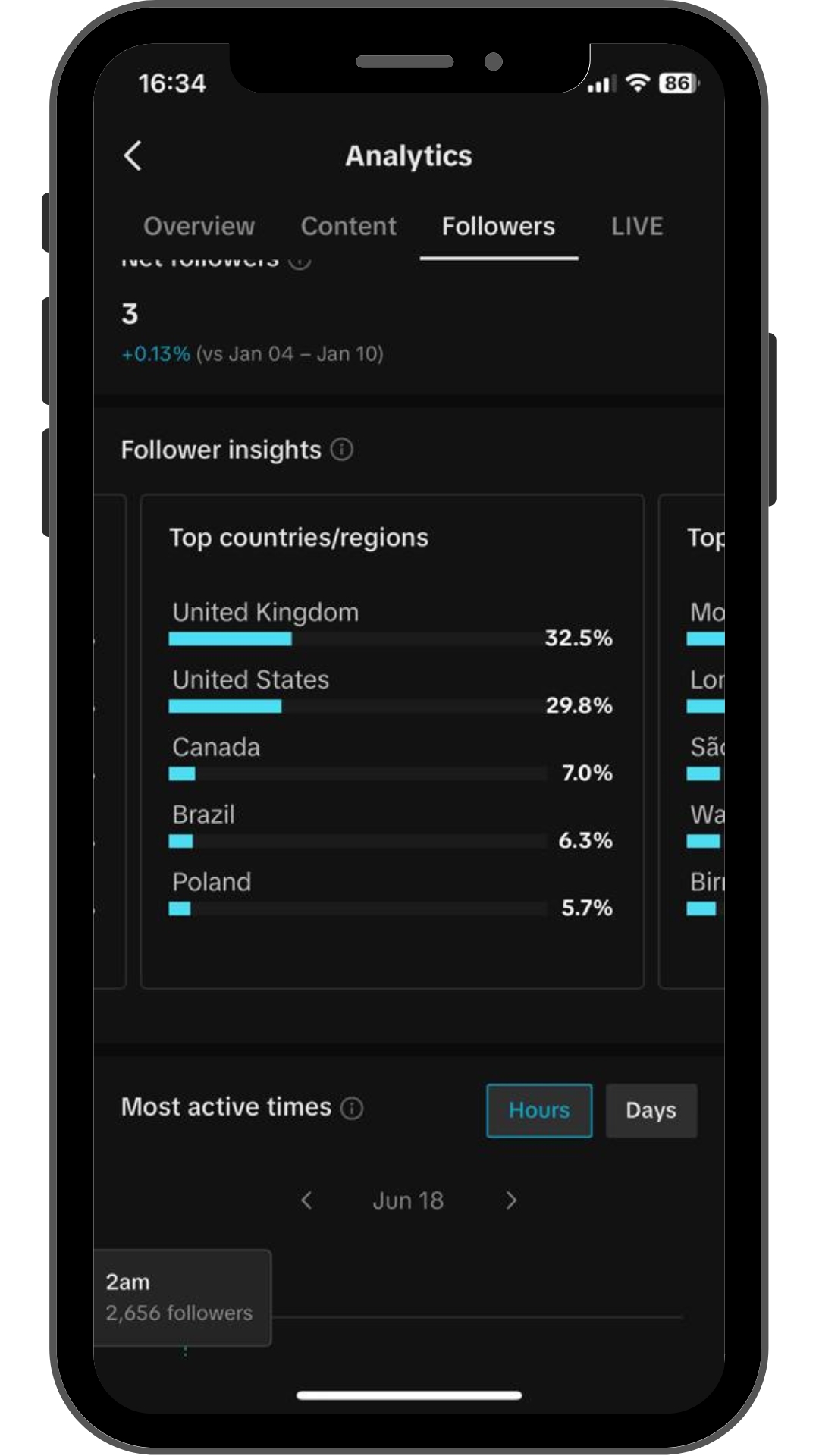 Top cities: The top cities your content is most viewed in, and where your followers are based. 
Most active times: Pay attention to the tallest bars on the graph, as this is when your followers are most active. You should be basing your posting schedule around this.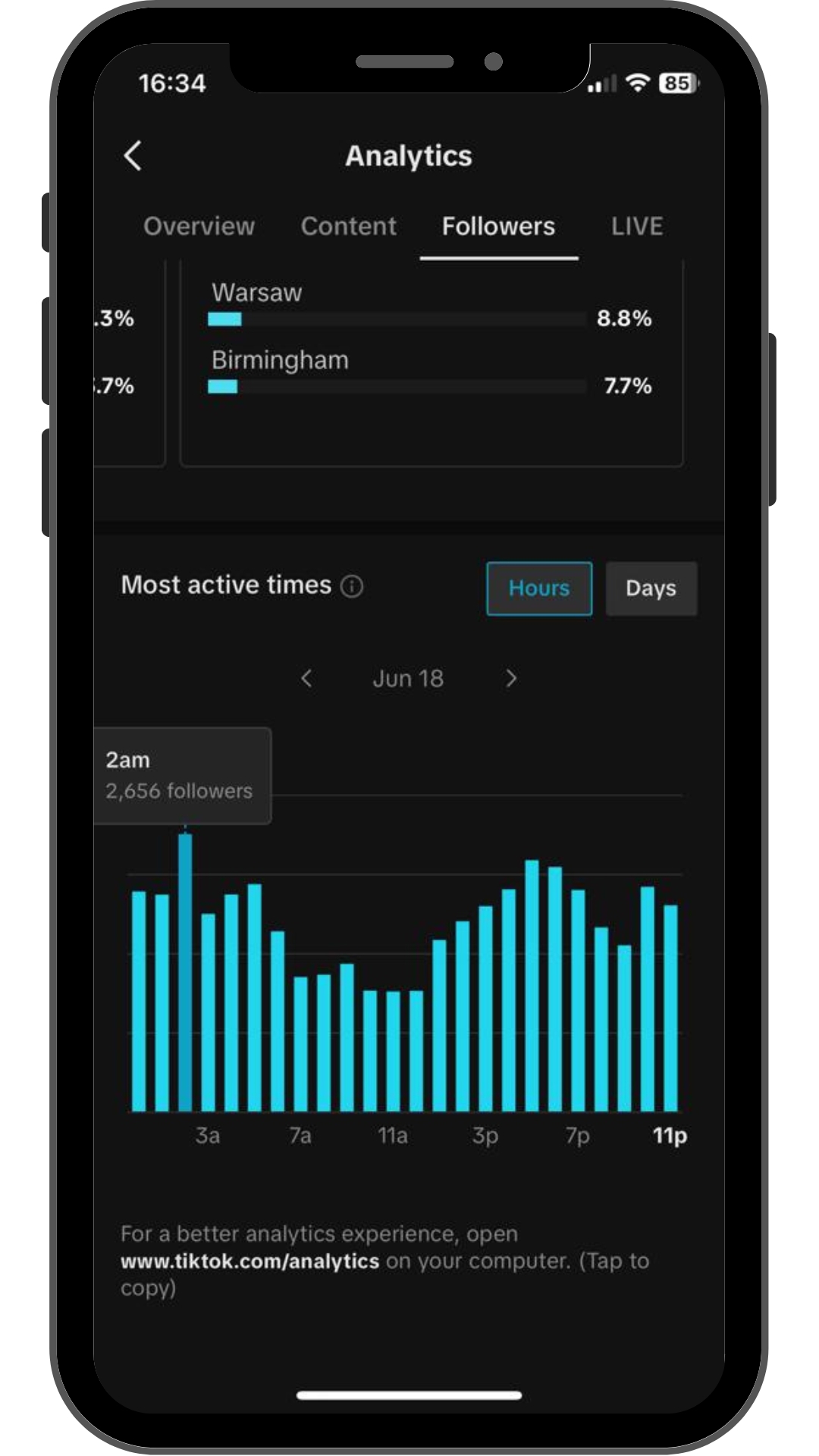 LIVE analytics
If you've hosted a TikTok LIVE within the last week – 28 days, you'll have access to insights such as total views, total time, new followers, top viewer count, unique viewers, diamonds and viewer rankings.
And there you have it. A guide to TikTok analytics! Now you know how to read your dashboard, you can tailor new data-driven content strategies to ensure maximum engagement and, ultimately, success.
Our influencer marketing agency and social agency are located worldwide, with our agency network based in the USA, UK, UAE and China.
If you want to receive our industry insights, visit our influencer marketing & social media blogs here.
latest posts
Social And Influencer Marketing News + Insights
Sep 22, 2023
Social Media Marketing News
Everything You Need To Know About Instagram Story Highlights
Read more
View all blog posts
Get in touch
We'll show you how to start powerful conversation, drive social engagement, build your brand, hit sales targets or meet other goals you have, wherever you are in the world.
Work with us