Why Beauty Brands Need To Focus On Menopause Marketing
Why Beauty Brands Need To Focus On Menopause Marketing
Nov 16, 2023
Marketing News
With Gen X pushing 60 and the oldest Millennials starting to cross the 40 mark, almost every consumer product category is battling with how best to "grow up" alongside their customer base. Nowhere is this challenge more pronounced than within the beauty industry. 
Moving at a constant speed of 100mph, the beauty industry does pretty well when it comes to updating campaigns and product lines to promote inclusivity. Take Milk Makeup's latest campaign video for its Hydro Grip Primer, featuring trans model Nykita Joy for example. 
But the beauty industry is still yet to prove its undivided allyship by tapping into one of the most profitable demographics yet: people who go through menopause. 
Given the immense changes women undergo within their menopausal years, they rely even more so on skincare and makeup products to keep up with and combat what their bodies are going through. Not only this, but they need to be given assistance and expert advice when purchasing these products. Manjeet Kaur Nijjer, a business woman in her 50s, states that "99% of all beauty counter assistants don't understand the needs of their customers when they're going through the menopause", adding another viable avenue for the brands looking to drive inclusivity.
With around 13 million women in the UK currently going through the menopause—each harbouring a range of specific skincare and health needs that need catering to—there is no better time for beauty brands to tap into the menopause marketing space than now. 
If all evidence points to the need for more action taken and discourse started, what are brands doing to ensure this happens?
As it stands, very few beauty brands—even less of which are considered giants in the industry—are actively targeting the "silver generation" despite them accounting for 47% of cosmetic spending pre-pandemic. 
But why is this?
WHY IS TARGETING MENOPAUSAL WOMEN SO IMPORTANT?
Not only will tapping into a relatively untouched space help brands stand out from their competitors, but the state of the beauty industry skews more heavily towards older women than people think, highlighting the importance of actually targeting this demographic.
Currently, women over the age of 45 account for 58.14% of the beauty market, while the 50+ population is expected to grow to 38% by 2035. When you put these statistics into perspective, it's almost astonishing that beauty brands haven't made more of an effort to leverage menopause marketing to target this demographic. 
But is there a deeper reason for their hesitation?
Until now, the beauty industry seems to have favoured anti-ageing over menopause-targeting products. In 2021, the global anti-ageing market was worth $62 billion and is predicted to reach $71 billion by the end of the year. There are only so many people who can be reached by products with anti-wrinkle qualities and menopausal women aren't part of this group. What they need is more than just this blanket approach of targeting women of a certain age with products to make them "look younger". 
Many brands are still avoiding using language synonymous with the menopause and are instead opting for marketing that "reduces fine lines" and "fights signs of ageing". Much of this has to do with the fact that our cultural attitude towards menopausal women is still shrouded in stigma, but should this lack of societal understanding rob women of finding the right products to help them through it?
Brands within the beauty space have an obligation to break these barriers and lessen the taboo around the topic; particularly if they wish to keep up appearances by putting inclusivity first. 
WHICH BRANDS ARE ALREADY RUNNING MENOPAUSE MARKETING CAMPAIGNS?
Putting inclusivity first in the beauty industry comes with a lot of social listening. 
A study conducted by Allergen found that 41% of women in the UK would prefer their face to look "fresh and radiant" rather than "younger", while 87% of those in France and the UK would prefer to look healthy rather than attractive. With this in mind, brands need to be catering to feeling rather than solely appearance when it comes to menopause marketing.
Here are the brands doing just that and pioneering the menopause movement within the beauty industry.
No.7
In 2022, No.7 launched its menopause range, co-created with 4,200 perimenopausal and menopausal women. 
Upon its launch, No.7 prepared every Boots store with an expert ready to offer advice to and support the women interested in the range. In addition to this, No.7 partnered with Allbright—an organisation championing discussion around the impact of perimenopause and menopause on women on their careers—to launch the 'Changing The Face Of Menopause At Work' initiative. The initiative features a five-part video series headed by experts across industries to provide women with practical and educational content. 
No.7's Marketing Director, Richard Bowden, described the launch as "more than just launching some products" and instead was a way to "provide in-store support and drive debate", highlighting No.7's superiority as a brand who best understands the sort of space it's tapping into and the women it's targeting. 
Wile
In a bid to target women going through the menopause, Wile adopts a different approach as it aims to treat perimenopause and menopause symptoms from the inside out. Actor Judy Greer has released a line of plant-based supplements to help target symptoms such as stress, anxiety, hot flushes and hormonal imbalances with the help of natural ingredients like ashwagandha and medicinal mushrooms. 
Using relatable and humorous menopause marketing ploys, as seen below, Wile is able to attract the exact target demographic its products speak to. Moreover, endorsements from the likes of Serena Williams are a nod to the brand's mission to amplify female voices and convey female empowerment.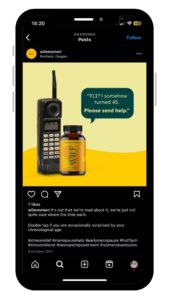 Pause Well-Aging
Cosmetics executive, Rochelle Weitzner, noticed there was a huge gap in the market for products that could help her through her own menopause journey and so decided to launch Pause Well-Aging. 
The skincare line focuses on "helping skin age better" and features a cleanser, serum, moisturisers, and other targeted treatments all formulated with vitamins, antioxidants and peptides. In addition to being a line of products created specifically to fill a gap in the beauty industry, the brand's unique Pause Complex formula is advantageous to its menopause marketing success, as it cannot be recreated and therefore sets the brand apart from other menopause products. 
Pause Well-Aging's USP lies in its release of the viral, award-winning Fascia Stimulating Tool. Honing in on further educational tips for application and getting the most out of menopause-focused products only proves a brands dedication to the women its targeting, as they're made to feel rooted for. 
WHAT DOES THE FUTURE OF MENOPAUSE MARKETING LOOK LIKE?
Senior beauty editor at WGSN, Theresa Yee, says "There has been a real lack of beauty products that truly serve women going through menopause as well as little beauty marketing attention directed to this subject in the past." 
Herein lies the problem.
It's not that there are hundreds of existing products out there being poorly marketed, it's simply that not enough beauty brands are tapping into menopause marketing.
However, despite brands like No.7 and Pause-Well Ageing trying to fill the gap in the industry by producing and unapologetically marketing beauty products specifically for women going through different stages of the menopause, there is still a long way to go in making this space accessible and commonplace in such a diverse industry.
Firstly, the products that are being produced are still skewing on the more expensive side, perhaps, due to their scarcity and the ingredients needed to formulate them. While we don't condone that ingredients for menopausal beauty products are compromised, we do expect more cost-effective ways of producing these products to come about as menopause marketing expands.
Looking to the future, the beauty industry's focus on anti-ageing is becoming extremely outdated as cultural attitudes move more towards embracing signs of ageing. Take Martha Stewart's Sports Illustrated Swimsuit Issue cover, for example.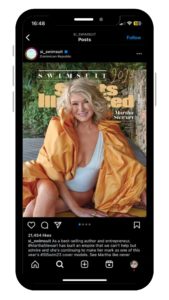 This cover alone nods to the shift in societal acceptance of ageing women and lessens the current taboo-fuelled outlook most people have, further opening up the floor for the introduction of more beauty brands running menopause marketing campaigns.
Whether it's on-trend or not, menopause is something a huge amount of the population will go through at some point in their lives. It is therefore imperative that beauty brands adopt a wider understanding of those who populate their market and which specific skincare needs they need catering to in order to create a more inclusive industry and acknowledge the women often left behind.
Our influencer marketing agency and social agency are located worldwide, with our agency network based in the USA, UK, UAE and China.
If you want to receive our industry insights, visit our influencer marketing & social media blogs here.
@ Socially Powerful
latest posts
Social And Influencer Marketing News + Insights
Dec 08, 2023
Social Media Marketing News
The Top 10 Influencer Marketing Campaigns That Cater To Gen Z
Read more
View all blog posts
Get in touch
We'll show you how to start powerful conversation, drive social engagement, build your brand, hit sales targets or meet other goals you have, wherever you are in the world.
Work with us